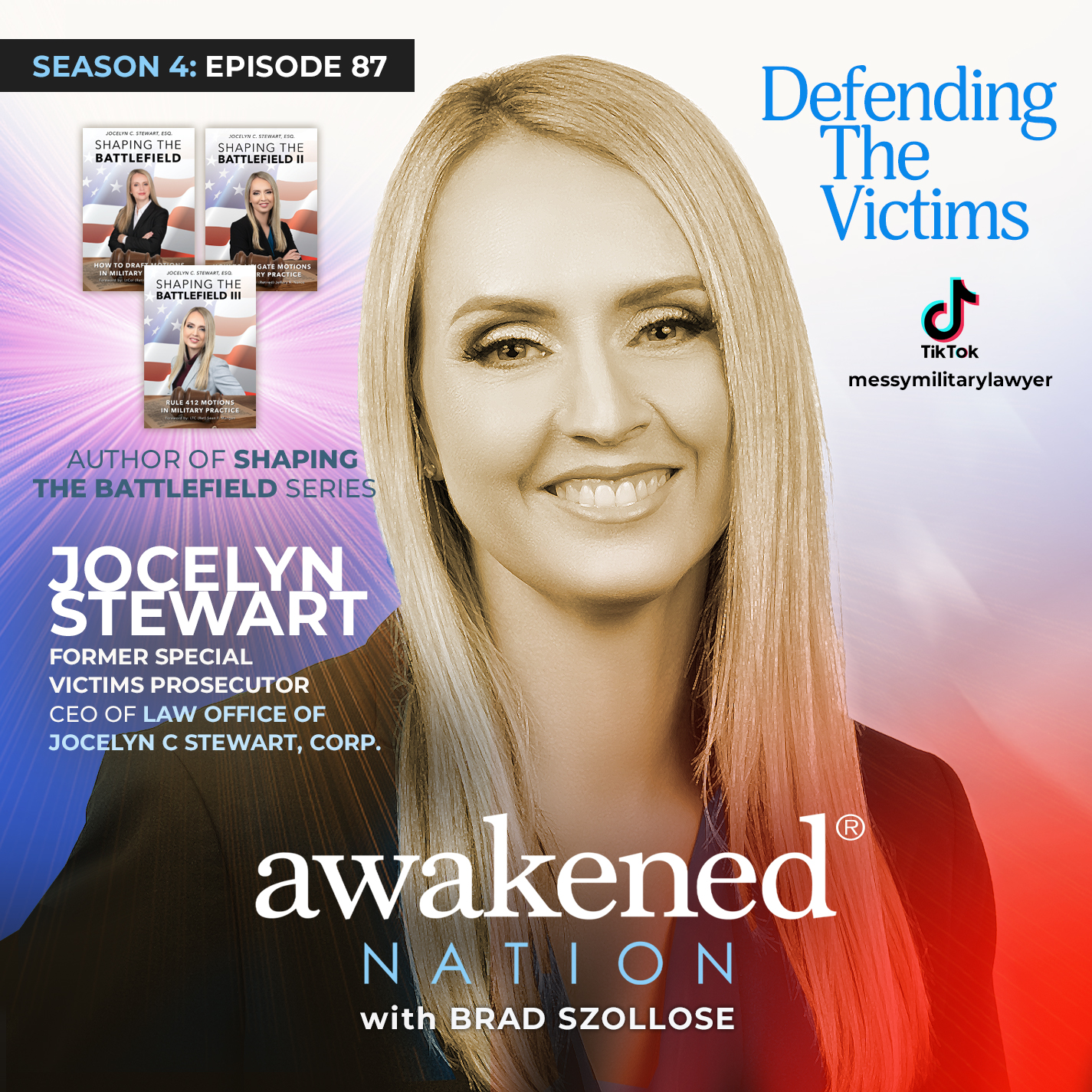 How do you catch a child molester? Jocelyn Stewart, Esq. knows first hand what it's like to defend the innocent and catch a pedophile. But how do you do so when there is very little published on the subject?
"I wanted to do the work the right way…so I grew my own personal library…I also reached out across Germany to speak with someone who was a recognized expert in the field of child forensic interview techniques…so I drove across Germany to meet the only expert in the field and he gave me this 4-hour crash course." 
She did all of this to develop trust and support a child who may need to testify in court.
Jocelyn sits down on Awakened Nation to discuss the techniques she learned from experts in the field, her military life, then starting her private practice, only to be surprisingly pulled in on the other side of the table…defending falsely accused fathers.
Starting out as a real life Law & Order Special Victims Unit prosecuting attorney for the Military, her stories will fascinate you as she finds justice for the victims and families.
Jocelyn Stewart shares with us the warning signs of a covert narcissist.
This is a gripping episode of Awakened Nation.
About Jocelyn Stewart:
In 2005, Jocelyn began work as a new military prosecutor where she remained in litigation for twenty-six months. In 2007, she transitioned into military defense work until 2010. In 2010, Jocelyn was selected to serve as one of the original fifteen U.S. Army Special Victim Prosecutors. In this position, she litigated cases with charges of sexual assault, child molestation, child exploitation, and intimate partner violence. In 2012, she left active duty to pursue private practice in military courts-martial defense. Jocelyn founded her own law firm and is the CEO of the Law Office of Jocelyn C Stewart, Corp.
As of 2022 the firm consists of three full time attorneys, five part time attorneys, one appellate counsel, two paralegals, and a dedicated defense investigator. Members of the firm have represented clients of every military service and have defended clients in the U.S., Iraq, Afghanistan, Germany, Italy, Japan, and South Korea.
From January 2017 until January 2020, Jocelyn also served as adjunct professor of criminal law at The Judge Advocate General's Legal Center and School in Charlottesville, Virginia.
She has published three books in her "Shaping the Battlefield" series that consists of practice points in courts-martial litigation.
Jocelyn's Law Firm: https://www.ucmj-defender.com/
TikTok: @messymilitarylawyer
About your Awakened Nation Host, Brad Szollose:
Fueled by the passion to ignite game-changing conversations, award-winning author Brad Szollose created Awakened Nation®—a podcast dedicated to deeper conversations with today's cutting edge entrepreneurs, idea makers and disruptors, bestselling authors, activists, healers, spiritual leaders, professional athletes, celebrities, politicians and rock stars …conversations that take a deep dive into the extraordinary.
This podcast will challenge your beliefs and make you think. Think Art Bell meets Joe Rogan.
Apple: https://podcasts.apple.com/us/podcast/defending-the-victims-with-jocelyn-stewart-esq/id1470228732?i=1000589683594
Spotify:
https://open.spotify.com/episode/1kJEte9WS1eaWCjLgHVrcW
YouTube:
https://youtu.be/sGU0cMuuRZ0
You Might Also Like These Articles