Court Martial Lawyer Serving Norfolk, VA
Contact an experienced military and court-martial attorney serving the Norfolk, Virginia, area on behalf of the Law Offices of Jocelyn C. Stewart.
By Appointment Only
Military Installations in the Norfolk Area
Naval Station Norfolk
NS Norfolk is the largest naval complex in the world. The base is the home to the largest concentration of U.S. Navy Forces with 5 carriers, 5 destroyers, 24 guided missile destroyers, 4 frigates, 8 amphibious assault commands, 7 submarines and 124 aircraft alongside 14 piers and 11 aircraft hangars. The base has on average 275 flights per day or one every six minutes. The base is responsible for operations conducted in the Mediterranean Sea, the Atlantic and Indian Oceans. The most important command at NS Norfolk is the Navy Warfare Development Command which is in charge of developing and creating new solutions for the Navy.
Joint Expeditionary Base–Little Creek
This base is the major operating base for the Amphibious Forces in the United States Navy's Atlantic Fleet. Little Creek was an important training site during World War II for developing the allies seashore invasion techniques used in both the European and Pacific theaters. The mission of the base to provide support to over 15,000 personnel, 27 home ported ships and other supported activities. The base is specifically geared for amphibious operations, which makes this base one of the most unique in the entire United States Navy.
Naval Air Station Oceana
NAS Oceana is the Navy's East Coast Master Jet Base. It is home to eighteen Hornet and Super Hornet squadrons. Sixteen of those squadrons are deployed onto carriers into combat and two are permanently based at Oceana. The Center for Naval Aviation Technical Training Unit trains highly qualified maintenance technicians for these squadrons as well at the base.  Oceana is located in Virginia Beach, VA which is touted as the world's largest resort city and offers a wide array of recreational activities for those serving. With over 10,500 active Navy personnel, 10,000 family members and 4,500 civilian personnel, Oceana is the second largest employer in Virginia Beach.
Langley Air Force Base (Joint Base Eustis-Langley)
The primary mission for Langley Air Force Base is to rapidly deploy air assets and secure air superiority in all conflicts for the United States and it's allies. It is also the first line of air defense for the east coast of the country. Langley Air Force base is under the command of the ACC (Air Force Air Combat Command) and is a popular Air Force base among servicemen and women in the nation.  Fort Eustis was combined with Langley AFB in 2010 under the Base Realignment and Closure Act. Fort Eustis' primary mission has been Army transportation training, research and development, engineering and operations, including aviation and marine shipping activities.
Fort A.P. Hill Army Base
Fort A.P. Hill is one of the largest and most important army bases on the East Coast. The base is home to the US Army Ordnance Corps Explosive Ordnance Disposal training center as well as the Asymmetric Warfare Training Center. The mission of the base is to, provide innovative, flexible, and relevant training enablers in order to support Army, Joint and Interagency readiness. On order, support contingency operations in the mid Atlantic and National Capitol region.
Fort Myer Army Base
Home to the 3rd U.S. Infantry, aka the "Old Guard", the Army's oldest infantry division, is located at Fort Myers and serves as a ceremonial unit for the Washington D.C. area. The U.S. Army Headquarters and The United States Army Band "Pershing's Own" are also located there.  Other units located at Fort Myer are , A Company, B Company, C Company, D Company, E Company, and the Military Police Company.
Fort Lee Army Base
Fort Lee was named after Confederate General Robert E. Lee, who was the commander of the Confederate forces during the American Civil war. Fort Lee is now home to Army agencies such as the US Army Transportation School, US Defense Commissary Agency, Army Logistics University, United States Army Combined Arms Support Command (CASCOM), US Army Ordnance School, United States Army Quartermaster School and the Sustainment Center Of Excellence.  Fort Lee's mission is to provide logistics doctrine, organizations, training, leader development, and material solutions to sustain a campaign quality Army with joint and expeditionary capabilities during peace and war.
Contact Norfolk Court-Martial Attorney Brian Bouffard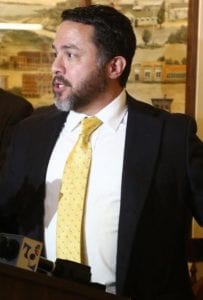 If allegations or court-martial proceedings have been initiated against you in Norfolk, VA, your future will depend upon how effectively your military defense lawyer represents you. Please call for an appointment with attorney Brian Bouffard of the Law Office of Jocelyn C. Stewart, or feel free to reach out online.