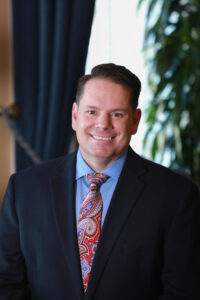 Mr. Peterson began his military career in 1998 when he enlisted in the Utah Army National Guard as a 13B (Howitzer Cannon Crewmember).  He served with both the Utah and Ohio National Guard while attending Brigham Young University in Provo, Utah where he earned a bachelor of sciences degree and the University of Toledo College of Law in Toledo, Ohio, where he earned his juris doctorate.  While attending law school in Toledo, Mr. Peterson was deployed in support of Operation Enduring Freedom and was stationed at Royal Air Force Base Mildenhall outside of Cambridge, England.  He volunteered at the base legal office on his free time and was introduced to military justice.  He was instantly drawn to it but was most intrigued by the defense counsel position and the ability to advocate for his client against the "military machine."
Mr. Peterson commissioned in 2006 after passing the Utah State Bar and upon completion of the Judge Advocate Officer Basic Course, Direct Commission Officer Course, and Basic Officer Leader Course; was assigned to "The Center of the Army Universe"—Fort Bragg, North Carolina.  Mr. Peterson served a year representing Officers, Soldiers, Family members, and Retirees as a Legal Assistance Attorney.  He spent the next six months running the largest volunteer income tax assistance (VITA) program in the Army where he trained and supervised over 40 Soldiers saving the Fort Bragg community over two million dollars in tax preparation fees and facilitated over twenty million dollars in tax return refunds.  At the end of his tour as Officer-in-Charge of the Fort Bragg Tax Center, CPT Peterson was approached by (then) Colonel Thomas E. Ayers, who was serving as the Staff Judge Advocate for 18th Airborne Corps and Fort Bragg and would retire as the 20th Deputy Judge Advocate General for the Army. COL Ayers asked (then) CPT Peterson what he wanted to do in his next duty assignment.  CPT Peterson sprang at the chance to get into the courtroom as a defense counsel, and COL Ayers gave him his chance.
From 2008 to 2010 Mr. Peterson served as a defense counsel at Fort Bragg.  In 2009, Mr. Peterson deployed for a year as the sole defense attorney supporting U.S. Division South headquartered in Basrah, Iraq. It was in Iraq he met Ms. Jocelyn Stewart who was also there as a defense attorney.  As a TDS attorney, he represented clients accused of everything from AWOL to premeditated murder receiving favorable outcomes for most of his clients.  Mr. Peterson's expertise, however, was in digital crimes.  Having worked for Microsoft before attending law school, Mr. Peterson found he could easily decipher digital evidence and use it to effectively examine or cross-examine government and defense witnesses alike to the benefit of his client. He also demonstrated a natural ability to educate the military panel and military judge in complex concepts easily breaking difficult legal theory into manageable and easily understandable ideas and reassembling them in a way anyone could understand.
Mr. Peterson spent the next three years as the senior prosecutor for V Corps and United States Army-Europe (USAREUR) in Heidelberg where he supervised eight prosecutors serving in Heidelberg, Weisbaden, and Baumholder.  Mr. Peterson returned to the United States in 2013 and was stationed at Fort Leavenworth where he served as an administrative law attorney where he reviewed and advised on hundreds of investigations of officers involved in senior leader misconduct and Soldier misconduct.  Mr. Peterson became an expert in Administrative Investigations including Formal and Informal AR 15-6 Investigations, Formal EO Complaints, Commander's Inquiries,Boards of Inquiry, Separation Boards, Notices of Elimination, etc. as well as the appeal process to General Officer Memorandums of Reprimand (GOMORs), Financial Liability Investigations of Property Loss (FLIPL), AR 15-6 Responses under the Army Adverse Information Program, OER and NCOER Rebuttals, Appeals to the Discharge Review Board, and the Army Board for the Correction of Military Records (ABCMR).
In 2015, Mr. Peterson was promoted to the rank of Major and returned to Charlottesville, Virginia, and The Judge Advocate General's Legal Center and School where he received an LL.M. in General Military Law.  His capstone paper, "So You're Saying There's A Chance? Navigating Evaluation Appeals," Was published in The Army Lawyer (August 2017) and outlines the steps necessary to appeal an officer evaluation report.
Upon graduation, he was asked to remain in Charlottesville and took the previously demonstrated ability to educate military panels and judges and turned it towards the classroom.  He was asked to serve on faculty as an Associate Professor of Contract and Fiscal Law where he developed an expertise in Construction Funding, Construction Contracting, and Procurement Fraud.  He was twice recognized as the "Outstanding Teacher in Contract and Fiscal Law." Mr. Peterson's expertise in government contracting will serve our clients in a crucial manner given all of the pending and sure-to-be investigations into practices in government contracting, particularly those in a deployed setting.
In 2018, Mr. Peterson left active duty to join his father and his brother as a partner in the Peterson Consulting Group of Utah which is a full-service government relations firm based in Utah.  He represents a number of non-profit, for-profit, municipal, and professional organizations on Utah's Capitol Hill.  Since the Utah legislative session is one of the shortest in the nation, Mr. Peterson has continued his military service and serves as a trial defense attorney with the Utah National Guard serving as the Senior Defense Counsel (SDC) with supervisory responsibilities over Utah, Idaho, and Montana.
Mr. Peterson officially joined the Law Office of Jocelyn C. Stewart, Corp as Of Counsel in December 2020 with a practice focusing on assisting clients in combating administrative actions to preserve their careers, livelihoods, and to secure their retirements.
EXPERIENCE
PETERSON CONSULTING GROUP OF UTAH                                                             January 2019 – Present
Partner, Salt Lake City, UT
Provide government relation services to a diverse clientele of local governments, for-profit companies, non-profit organizations, professional service/industry associations, and special interest groups.
Subject matter experts in education, transportation, infrastructure, taxation, health care, the arts and have partnerships at the state and federal level to facilitate any and all advocacy requirements.
Have successfully defended our clients' interests at the highest levels of government—legislative, executive, and judicial.
UTAH ARMY NATIONAL GUARD                                                                            September 2018 – Present
Senior Defense Counsel, 653rd Trial Defense Team Draper, UT
September 2018 – Present
Supervise, teach, train, and mentor four defense counsel and three paralegals in Utah, Idaho and Montana.
Provided defense services to the Utah, Idaho, and Montana Army National Guard communities. These three states total more than 11,000 Soldiers.
Strengthened the ability of Utah, Idaho, and Montana defense attorneys to exercise flexible drill scheduling in order to more effectively represent the Soldiers who need our help the most.
U.S. ARMY JUDGE ADVOCATE GENERAL'S CORPS                                        August 2006 – September 2018
Assistant Professor, Contract and Fiscal Law, The Judge Advocate General School, Charlottesville, VA
June 2016 – June 2018
Taught over 3000 Judge Advocates in Contract and Fiscal Law with an expertise in Military Construction Funding, Military Construction Contracting, The Law of Ethics, and Federal Government Procurement Fraud
Reviewed and edited numerous papers and academic articles related to contract and fiscal law.  A number of these papers were published in The Army Lawyer.
Planned and executed the academic and logistical requirements for numerous short courses taught throughout the academic school year.  Most of these courses had more than 200 attendees.
Administrative Law Attorney, Fort Leavenworth, KS
July 2013 – July 2015
Advised commanders and staff on the various legal issues surrounding administrative investigations, civil and criminal repercussions for misconduct, loss and damage of government owned property, appropriate use of appropriated funds and government contracting requirements.
Advised on numerous investigations and formal boards.
Served as assistant investigating officer on two investigations lead by general officers.
Tasked with creating TRADOC's first SHARP center where SVPs, SVCs, CID, SARCs, VAs, VRs, and PMs could be collocated
Senior Trial Counsel (V Corps & USAREUR)/OIC (Patton Law Center), Heidelberg, GM
July 2010 – July 2013
Served as senior trial counsel for V Corps and USAEUR HQ at Campbell Barracks, primary legal advisor to USAG-Baden-Württemberg garrison commander, supervised eight trial counsel and 12 paralegals over three geographically separated offices.  Also served as chief, client services and sole labor attorney for the garrison as the Patton Law Center OIC.
·       Litigated and supervised over 60 courts-martial involving charges such as desertion, attempted murder, involuntary manslaughter, premeditated murder and sexual assault
Tasked as the sole labor attorney for the garrison, a job originally held by three civilian attorneys.
Sole point of contact for Chief of Staff's "Invisible War" training initiative for the entire garrison.
Defense Counsel Fort Bragg, NC and COB Basrah, Iraq
June 2008 – May 2009; May 2009 – May 2010 (TCS Orders)
Defense Attorney providing criminal defense representation to the largest military community in the Army comprising of six general court-martial convening authorities.  Volunteered to deploy in support of combat operations in Basrah, Iraq serving as the sole defense attorney for USD-South.
Represented over 100 clients in contested general, special, and summary courts-martial, guilty pleas, separation boards, boards of inquiry, flight evaluation boards, rank reduction boards, and Article 15 proceedings.
·       Considered a subject matter expert in cross-examination of expert witnesses with a specialty in computer crimes.
·       Prepared and presented a block of instruction regarding the defense of child pornography cases at the request of DCAP.
Legal Assistance Attorney and Tax Center OIC, Fort Bragg, NC
March 2007 – June 2008
Counseled and advocated for Soldiers' rights concerning both civil and legal matters, to include estate planning, custody, marital issues, taxation, and contracts; these services were provided to a community of more than 100,000 Soldiers, family members, and retirees.
·       Provided legal advice and consultation to more than 270 clients in my first year as a legal assistance attorney with services covering a variety of legal topics Served as the chief of Legal Assistance for a period of 6 months and supervised 2 attorneys
·       Supervised 40 VITA-certified, voluntary-duty soldiers in the preparation of over 12,000 tax returns saving the Fort Bragg military community more than $2.4M in tax preparation fees and facilitating tax refunds in excess of $20M.
EDUCATION
The Judge Advocate General's Legal Center and School, Charlottesville, VA                                              June 2016
Masters of Laws
Published in The Army Lawyer (August 2017)– So You're Saying There's A Chance? Navigating Evaluation Appeals
The University of Toledo College of Law, Toledo, OH                                                                        December 2005
Juris Doctor
Moot Court, Intellectual Property Team
Brigham Young University, Provo, UT                                                                                                    August 2002
Bachelor of Science, Nutritional Science