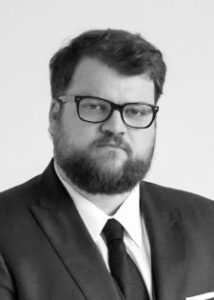 In April 2022, the Law Office of Jocelyn C Stewart welcomed Mr. Brian Schenk as Of Counsel.
Brian's practice is devoted entirely to the nuanced field of federal military personnel law with a particular focus on matters before the Boards for Correction of Military Records (BCMRs) judicial review of military-personnel decisions. He has represented clients in dozens of matters before BCMRs in every branch involving a seemingly endless number of substantive issues. Those issues range from advocating for clients to receive upgrades to their discharge characterization, evaluation report appeals and survivor benefit plan (SBP) eligibility challenges to Combat Related Special Compensation (CRSC) applications, Physical Evaluation Board (PEB) appeals, grade determination appeals, promotion cases and everything in between.
Mr. Schenk is also one of very few attorneys who specializes in judicial review of military personnel decisions (including BCMR decisions) in federal district courts and the U.S. Court of Federal Claims.
Over the years, Brian has worked on cases before multiple district courts, the U.S. Court of Federal Claims and in the U.S. Courts of Appeals for the Federal and D.C. Circuits.
As one recent example, in the U.S. District Court for the District of Columbia, Mr. Schenk successfully challenged an Army Board for Correction of Military Records (ABCMR) decision denying a client's request to change his record to reflect a timely election to transfer his post-911 GI Bill benefits to his children. See Marta v. Whitley, 20-cv-1020 (D.D.C. Mar. 31, 2021) In March 2022, on remand to the ABCMR, the board granted full relief.
Marta v. Whitley illustrates the impact success in federal court can have not only for the plaintiff but for other members who have suffered the same errors or injustices. This noteworthy case may also provide a framework for potentially numerous, similarly situated applicants to challenge the ABCMR's denial of their request to correct their records to reflect timely participation in the Transfer of Education Benefits (TEB) program.
Brian is a contributing author to the Military Discharge Upgrade Legal Practice Manual curated by attorneys at the Veterans Legal Clinic at the Legal Services Center of Harvard Law School.  The manual was published by the American Bar Association in 2021 and is slated for a second printing in 2022. Mr. Schenk co-authored Chapter 13: Medical Separations and Retirements, which discusses the Disability Evaluation System process, BCMR appeals, and judicial review.
Since 2018, Mr. Schenk has been an adjunct professor for Property: Jurisprudential and Comparative Analysis and, from 2018–19 was an adjunct professor for Constitutional Law–Liberties as part of the Mitchell/Hamline School of Law's HYBRID program.
In his spare time, Mr. Schenk enjoys woodworking (particularly wood turning), cooking, music and travel.