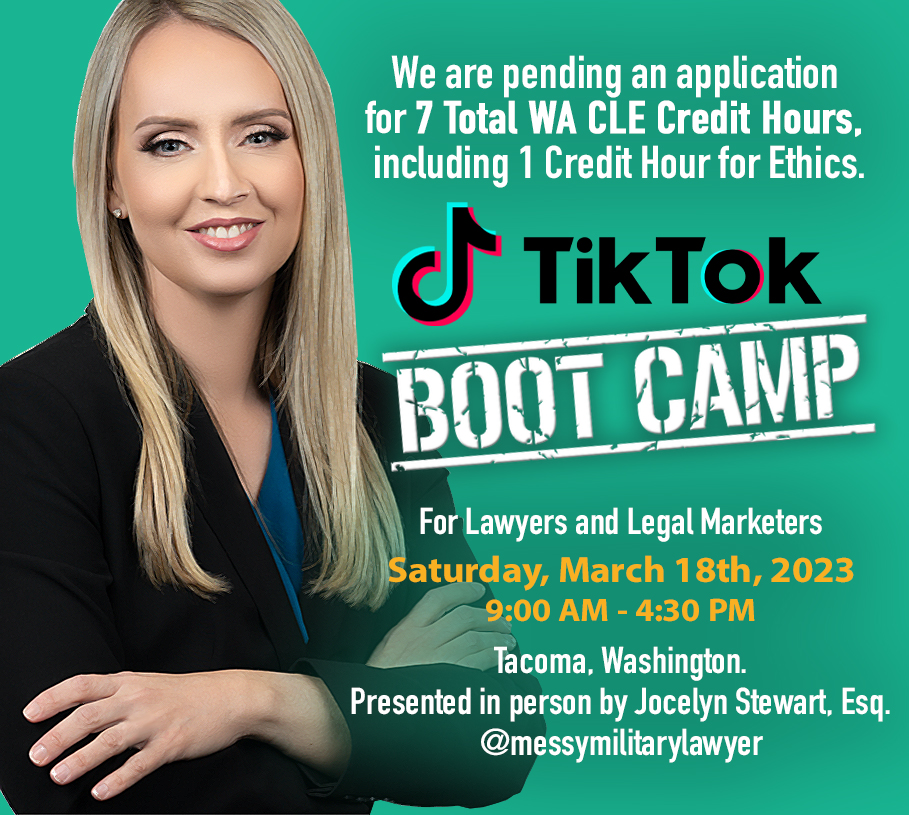 Thank you for your interest in the TikTok(R) bootcamp…
Presenters will include two marketing experts and me: @MessyMilitaryLawyer
We are pending an application for 7 total WA CLE credit hours, including 1 credit hour for ethics.
Course topics will cover…
Why TikTok(R): Marketing Strategies for Near and Long Term;
Tips for Engaging- including "Not Lawyering";
TikTok(R) Videos – How to Make your videos work for more than just one Platform;
Converting Videos to Clients;
How TikTok(R)'s Algorithm Leads to Quick traffic; and more
For attorneys and legal marketers who attend the live course, the fee will be $1,795.  If anyone wants to bring a second attendee who will manage the account, non attorneys from your staff may attend the live course for the fee of $650.
These prices include breakfast and lunch.
Hotel is separate though at a discounted rate for attendees.
**Live attendance is highly encouraged.**
For anyone unable to attend live and wishing instead to access a taped recording of the course, the fee is $1995.
Email info@ucmj-defender.com with questions. Hotel link will follow.