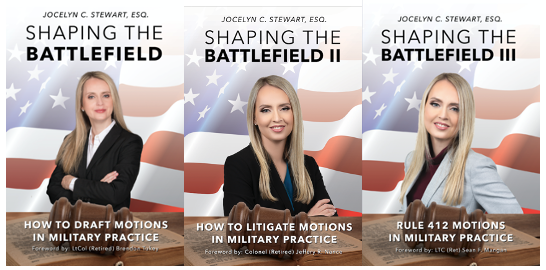 Ms. Stewart has appeared before more than fifty-four military judges of various service courts, and she has drafted and responded to hundreds of Rule 412 motions since 2005. From experience in nearly two decades of litigating sexual assault cases as a military prosecutor, uniformed defense counsel, and civilian defense practitioner, Ms. Stewart knows that sexual assault cases crowd the docket more than any other single type of case. Rule 412 motions are litigated in nearly each of those cases, and they, like all motions, voir dire, and instructions, have the power to shape the battlefield.
As a former JAG for the U.S. Army, Jocelyn C. Stewart prosecuted and defended Soldiers on active duty from 2004 to 2012. Since 2012, UCMJ attorney Stewart has been providing superior representation exclusively to service members in need across all military branches worldwide. Ms. Stewart is determined to provide the best legal counsel possible using unimpeachable tactics to protect each client's career, reputation and freedom.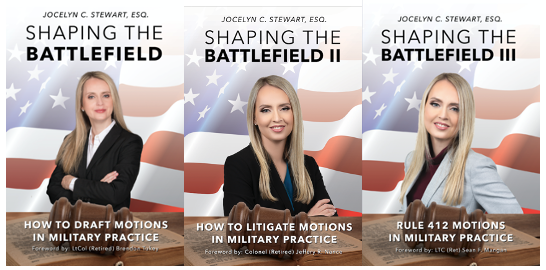 What you'll discover in Shaping The Battlefield Books 1, 2, & 3…
How To Avoid Temptation When Drafting Your Motion
How To Identify Your Remedy
When To Consider Multiple Prayers Of Relief
Why Facts Are Important
Research Methods
Systemic Approach To Legal Analysis
Procedural Motions Versus Non-Procedural Motions
Why Requesting An Article 39(A) Session
How To Prepare To Litigate The Motion
What Kinds Of Evidence To Use For The Motion
How To Call The Complainant As A Witness
How To Avoid Sworn Testimony At All Costs
How To Prepare For Oral Argument
Why Decorum Above All Else Matters
Why Regurgitating Your Written Pleading Is Not Recommended
The Importance of Anticipating Judicial Questions
What Kind Of Motion Is A Rule 412 Motion
How To Look For Rule 412 Facts From A Client
How To Identify The Rule 412 Basis For Admission
How To Prepare For Legal Writing In Rule 412 Motions
Why You Need An Article 39A Session
The Importance Of Calling The Complainant As A Witness In Rule 412 Motions
How To Prepare For Oral Argument
How To Litigate Rule 412 Motion
Why It's Crucial To Anticipate Questions From A Military Judge
and much more.
To order books 1-3 of Shaping The Battlefield, the price is $59.95 (which includes shipping anywhere in the Continental USA).