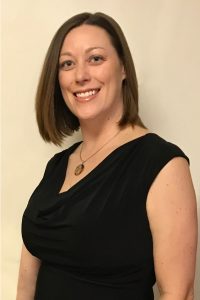 Kate Richards joined the Law Office of Jocelyn C Stewart, Corp. in August 2017. Kate works as the lead paralegal for the firm, interfacing with clients, families, witnesses, and she bridges communication between and among the attorneys and our investigator.
Kate received her Masters Degree in Forensic Psychology from Argosy University in 2008 and immediately began working with victims of violent crimes. Prior to joining the team at LOoJCS, Kate most recently worked at the U.S. Attorney's Office, District of Alaska as the Victim Witness Coordinator. Some of her prior work experience includes working in a maximum security prison conducting classification assessments, working in community corrections as a case manager with probation and parolees, and working in a county mental health program as a grant coordinator, helping secure much needed funding for mental health programs.
Kate understands military culture, the intersection between those that stand accused from within the ranks, and the support they need to navigate the criminal justice system. She wears many hats at the firm but makes her mark each day with quick wit and dedication to acting as our "fixer" for small issues and some that are not so small. Her appreciation for what it means to serve hits close to home for Kate, who is herself married to an active duty service member.
In addition to working for the Law Office of Jocelyn C Stewart as Ms. Stewart's direct paralegal assistant, Ms. Richards is a devoted mother to her two children and a patient spouse to an active duty Soldier.