The Law Firm of Jocelyn C Stewart, Corp. is excited to welcome on board William "Chad" Doyle who will serve as the senior paralegal and Ms. Stewart's personal assistant. With an extensive military background as a Chief Legalman, he brings a wealth of knowledge and experience to the firm.
A native of Houston, TX, Retired Chief Legalman (Seabee Combat Warfare/Enlisted Aviation Warfare) Doyle enlisted in the U.S. Navy on 28 October 1998 and completed Recruit Training at Great Lakes, IL in January 1999.  Upon completion of basic training, he attended Airman ATD Training, Great Lakes, IL. Chief Doyle graduated from Naval Justice School, Newport, RI and converted to Legalman (LN) in June 2001. In 2015, he graduated with his AS in Paralegal Studies from Roger Williams University in Bristol, RI.
Chad Doyle's history of assignments includes:  flight deck crew onboard the USS Theodore Roosevelt in Norfolk, VA;  NJP Clerk, UA Desk, and Civil Conviction Coordinator at Naval Air Technical Training Center, Pensacola, FL; Leading Petty Officer and Defense Paralegal at Naval Legal Service Office Northwest in Whidbey Island, WA; Support Paralegal for Task Force 134, Iraq, Independent Duty Legalman and Legal Officer with Naval Mobile Construction Battalion 74 in Gulfport, MS, Staff Legalman at Submarine Squadron 15 in Piti, Guam and most recently as an instructor at the Naval Justice School, in Newport, RI.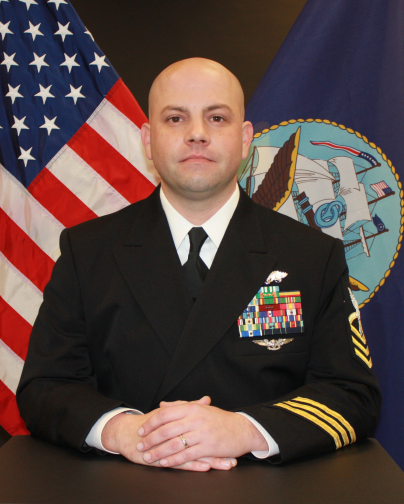 Chad Doyle's personal awards include the Joint Service Commendation Medal, Navy and Marine Corps Commendation Medal (2), Navy-Marine Corps Achievement Medal (4), and Good Conduct Medal (6).  His campaign and unit awards include Joint Service Achievement Medal, NATO Medal (2), Iraq Campaign Medal (2), Kosovo Campaign Medal (2); Army Meritorious Unit Award; Joint Meritorious Unit Award, Meritorious Unit Commendation Medal, Afghanistan Campaign Medal (2), Navy Expeditionary Medal, Armed Forces Service Medal and the Armed Forces Expeditionary Medal (2).