VETERAN ATTORNEY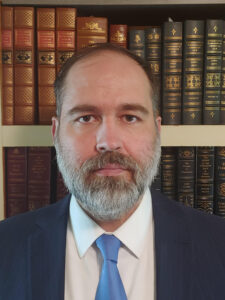 Mr. Cameron Kroeger is a United States Air Force Veteran and attorney, currently practicing extensively in the field of VA disability compensation claims.
While in the Air Force, Cameron was stationed in California, Texas, and Georgia; and he deployed to Iraq, Kuwait, and Germany. Cameron worked for the Army as a civilian after leaving the Air Force. After his government service, Cameron returned to college in his home state, and completed his law degree at the University of Nebraska College of Law.
VETERAN CLAIMS APPEALS EXPERIENCE
For years, Cameron has helped hundreds of veterans win their VA disability claims at the VA Regional Office, the Board of Veterans' Appeals, and the Court of Appeals for Veterans Claims. Cameron recently left a large firm who practices Veterans Law in part. Mr. Kroeger is energized to join forces with Jocelyn Stewart to provide quality and personal assistance to our veteran and family member clients.
CASES HANDLED
On behalf of his veteran clients, Cameron has argued, and won, service connection and increased ratings claims, and he has convinced the Court and the Board to remand claims for further consideration for numerous types of claims, ranging from Posttraumatic stress disorder (PTSD), military sexual trauma (MST), depression, schizophrenia, bipolar disorder, sleep disorder, cognitive dysfunction, and other mental health disorder claims, whether or not the veteran has combat service, to in-service injuries, whether or not service treatment records do not show treatment. These injuries include feet, legs, hips, back, neck, arms, hands, head, and other parts of the body.
Cameron has handled a wide variety of disabilities due to deployments and service in Southwest Asia including Iraq, Kuwait, U.A.E., the Persian Gulf, and for those whoe service brought them to Afghanistan and Pakistan. Those claims ranged from those for acid reflux, ulcers, stomach, digestive complaints; skin conditions, migraines, asthma, COPD, allergies, and other respiratory complaints; sleep apnea, heart conditions, fibromyalgia, muscle pain, joint pain, neurological complaints, and gynecological conditions.
Cameron is well-versed in claims arising for expose to Agent Orange for non-presumptive disabilities. Some of those non-presumptive disabilities are hypertension, hypothyroidism, congestive heart failure, atherosclerosis, kidney cancer, kidney disease, various metabolic disorders, pulmonary fibrosis, bronchitis, sarcoidosis, pancreatic cancer, thyroid cancer, squamous cell carcinoma, basal cell carcinoma, or other skin cancers and more. Cameron's experience dealing with Agent Orange exposure also includes those claimants who served in Thailand, even at "non-approved bases" He has even filed appeals on "bluewater" claims for offshore Vietnam service; and Korea service demilitarized zone (DMZ) claims.
Cameron has also helped veterans prove their Vietnam service as part of their Agent Orange claims.
He also won a remand at the Court arguing that flights over Vietnam should count as Vietnam service for the presumption that the veteran was exposed to Agent Orange in service.
Cameron also successfully handled appeals for disabilities due to Camp Lejeune contaminated water, cases involving lost records, and those with waiver of debt claims.
TDIU CLAIMS / SMC / CRSC
Further, Cameron was successful in assisting veterans with total disability based on individual unemployability (TDIU) claims; Special monthly compensation (SMC) based on aid and attendance or housebound status claims; Entitlement to dual receipt of retirement and VA disability compensation benefits for veterans rated at 30% disabled under the Combat Related Specialty Compensation (CRSC) program.
DISABILITY OR DEATH DUE TO VA HEALTH CARE / OTHER SECTION 1151 CLAIMS
Mr. Kroeger handles disability or death due to VA health care or other VA claims (Section 1151 claims). He fights for Dependent Indemnity Compensation (DIC) and accrued benefit claims for widows, widowers, and other qualifying survivors of deceased veterans.
CUE CLAIMS
Lastly, Cameron works with Clear and unmistakable error (CUE) claims, where the initial non-appealed decision by the VA was clearly wrong, thus entitling the veteran to effective dates to their initial date of filing.
VA DISABILITY RATING
Whether your rating was too low from the start or needs to be revisited as time has passed, Cameron can assist in applying for an increased monthly veterans' disability benefit based on an increased disability rating.
PERSONAL TOUCH
Mr. Kroeger prides himself on his interface with clients when they need him the most. He provides a personal touch on each claims appeal. Many attorneys in this industry, regrettably approach a case without much in the way of innovation or research. Cameron is the opposite. He is always researching and making novel arguments to maximize every appeal. That's just the kind of attorney he is, the kind of person he is. There can be little doubt that the success he obtains on behalf of his clients is due to that same desire to innovate. Every case is unique, personal, and requires the personal touch he is known in the industry to provide.
Once on the schedule page, scroll until you see VA Claims Consult.
In the dropdown menu, select the time zone where you are currently located.
Then choose the date that is best for you, and then the time.
Please provide your name, email address, and phone number, and answer the few questions on your questionnaire. It is most helpful if you can upload your VA Claim decision memo so we can review it prior to your appointment.