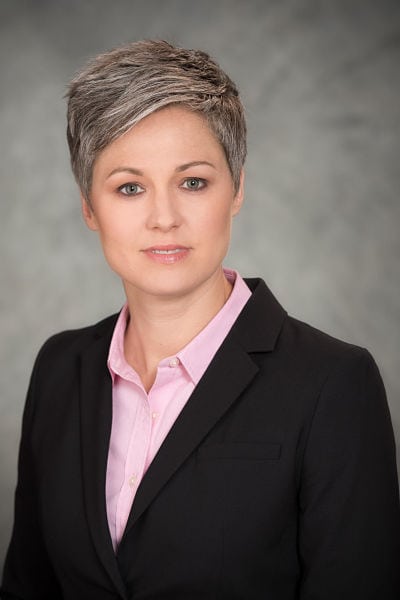 Ms. Hubbard joined the Law Office of Jocelyn C Stewart, Corp. as our in-house dedicated defense investigator in September 2017.  
Ms. Stewart poached Amanda from the Cuyahoga County (Cleveland) Public Defender's Office. Prior to the Public Defender's Office, Amanda worked for the county medical examiner's office as a medicolegal investigator and gained experience on death investigations including coordinating collection of field data and preservation of evidence.  
As a prior paralegal and reserve police officer with a degree in criminal justice, Ms. Hubbard's presence at the firm brings a wealth of knowledge and diverse experience to our team. She also is pursuing her master's in criminal justice.
In her recent past, Amanda has honed invaluable skills in the area of online and social media investigations. Her expertise has been nationally recognized, and she has been chosen to present to other defense investigators at numerous conference trainings, including the National Defense Investigator's Association. With so many of the firm's cases having social media implications, Amanda's addition to the firm as a dedicated investigator is proving critical to our successes, especially in the cases where we become involved early.
Importantly, Ms. Hubbard brings a team approach to investigations. Collaborating alongside the attorneys, our team focus helps ensure that all investigative leads are pursued and exhausted. Her relentless pursuit of solving each puzzle makes her the perfect fit for the firm's singular focus and dedication.
EXPERIENCE
05.2016 – present
Licensed Private Investigator (20172100206565)
Scout Investigative Service LLC (20172100206539), Fairview Park, Ohio
Online open source investigations
Social media preservation and authentication
Social media mining
Ediscovery
Process service
Criminal/civil defense investigations
Mitigation investigation
04.2014 – 08.2017
Criminal Defense Investigator
Cuyahoga County Public Defender, Cleveland, Ohio
Conduct independent investigations related to felony cases
Online open source information gathering
Social Media investigations
Identify, locate, and interview witnesses
Gather, mark, record, and preserve evidence
Confer with Public Defenders
Work with public agencies, police, attorneys, judges, and other
professionals who may be relevant to legal defense
Serve subpoenas and legal process
Generate written reports upon completion of the fact-finding process
Review police dispatch and jail call recordings
Search computer resources, including TLO, Lexis Nexis, Lexis
Advance, as well as, online public resources
Examine and select relevant medical and pharmaceutical records
Visit, examine, diagram, photograph crime scenes
Prepare demonstrative evidence for use in court, such as, diagrams,
charts, photographs, and computer presentations
Lead investigator on Innocence Project cases
Lead investigator on the Michael Madison (579539), capital case
06.2008 – 09.2008
Medicolegal Investigator
Cuyahoga County Medical Examiner, Cleveland, Ohio
Conducted death investigations on an on call basis for county Medical Examiner (ME)
Responded quickly to traumatic and/or disturbing death scenes and conducted examination of decedent, pronouncing death and securing decedent and property on their person
Coordinated field data collection, preserved evidence at scene, acquired and compiled pertinent medical history
Photographically documented death scenes
Performed data entry, and generated reports
Wrote complete, accurate and comprehensive statement of
investigations
Provided timely communication of pertinent case information to
OCME staff, autopsy personnel, law enforcement and decedent next
of kin, as appropriate
Facilitated transportation of remains to designated ME facility
Performed additional tasks as requested by supervisor
01.2008 – 06.2008
Medicolegal Investigator Intern
Stark County Coroner, Canton, Ohio
Assisted Coroner and Chief Investigator during autopsies, evidence recovery, blood and bodily fluid preservation, internal/external examinations, scene investigations and report writing and documentation.
08.2007 – 06.2008
Capital Crimes Paralegal
Ohio Attorney General, Cleveland, Ohio
Specialized in Corrections Litigation for Capital Crimes, Habeas Corpus, and section 1983 cases
Prepared procedural histories, briefs, joint appendices, and case summaries
Performed research using Lexis Nexis, OHLEG, and other internet sources
Performed investigations for new cases and clemency hearings
Maintained case organization through discovery process
Trial preparation
12.2005 – 06.2006
Reserve Police Officer
Stow Police Department, Stow, Ohio
Performed routine auxiliary tasks, to include vacation checks, lockouts, and back up for commissioned police officers
LEADS certified
CPR & First Aid certified
Firearms trained
01.2001 – 06.2001
U.S. Marshals Service Intern
U.S. Marshals Service, Cleveland, Ohio
Assigned to Investigations
EDUCATION
2008 – present – Kent State University, M.A. Criminal Justice, Global Security
01.2003 – 08.2003 Kent State University, B.A. Criminal Justice
08.1996 – 12.2001 Akron University, B.A. Sociology/ Law Enforcement
• NCAA Division I Basketball Full Scholarship Athlete
CERTIFICATES
CSMIE- Board Certified Social Media Intelligence Expert, McAfee Institute
CONFERENCES
04.2017 – NDIA (National Defender Investigator Association) National Conference, Fort Lauderdale, FL (Presenter/ Social Media Investigations)
06.2017 – Techno Security & Digital Forensics Conference, Myrtle Beach,SC (Presenter/ Social Media Investigations)
09.2017 – NDIA (National Defender Investigator Association) Regional Conference, New Orleans, LA (Presenter/ Social Media Investigations)
09.2017 – Techno Security & Digital Forensics Conference, San Antonio, TX (Presenter/ Social Media Investigations)
SKILLS
Critical thinking and problem solving
Communication and interviewing
Technological skills and knowledge
Research and writing
Knowledge of the law and legal proceedings
High physical and mental fitness levels and stress endurance standards
Case management and organization
Presentations
20 hour OPOTA Private Security Firearms Certification